Thank you so much to everyone who joined us for the WONCA Europe Pre-Conference and Conference in Brussels! We had a fantastic time. We would like to welcome two new executive members: Marika Svatošová (Treasurer) and Yanica Vella (Exchange Officer) who were elected during our council meeting! Special thanks to the pre-conference HOC for an amazing event – see more here.

Young family doctors also made up 32% of all attendees at the main conference, which is huge! 3 of our EYFDM Members (Stuart Holmes and Ikbal Humay Arman from the executive and Daria Gheorge, our National Delegate from France) gave a very impactful plenary speech – if you missed it you can watch it here.

Thanks to the generosity of attendees, we also raised €3940 for our EYFDM Fund via the lottery, which we will use to fund bursaries for those from LMIC to attend our future events. If you have been lucky enough to win a prize, please contact awards@eyfdm.eu. 

Speaking of…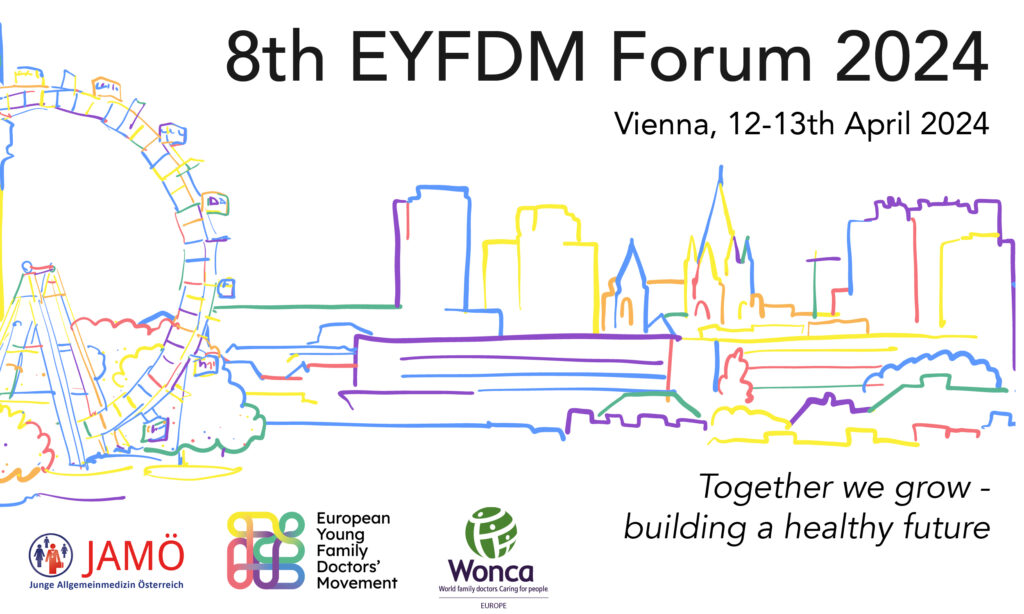 The 8th EYFDM Forum will take place in Vienna, Austria from 12-13th April 2024, with a pre-conference exchange starting on 9th April. Registrations open on 16th July – you can find all the information you need right here, including the pre-conference application process and abstract deadlines! Put the date in your diary and get registering now!
And if you love attending EYFDM Events, why not host your own…
WE ARE LOOKING FOR BIDS FOR THE 9TH EYFDM FORUM!
We will soon be inviting bids for the next EYFDM Forum! We will be sharing more information about deadlines and voting soon – but in the meantime, why not check out our bid teaser, and start thinking about whether you could host an event in your own country!